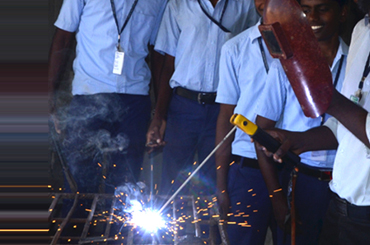 Mechanical Engineering (Tool and Die Making) was established in 2009 to fulfill the requirement of Tool & Die making engineeers to emerging Industrial world.
We have authorization to approve 60 students. There is always huge need of Tool & Die makers in Intranational and International Industrial sectors and also can be a successful entrepreneur.
The Manufacturing Industry is mainly reliant on tools. Hence Tool and Die Engineers are the most important personal in guaranteeing a continuous supply of resources for making various items in different Manufacturing Units.
There is a vast need of alternative and perfective tool makers to this industrial world.
Labs Facilities
We train the students with well Qualified & experienced faculty members through our Tool & Die Laboratories which resemble real Tool & Die making industry.
100% Lab facilities including Computer Aided Machining resembles real industry and Drawing.
The follwing lab moulds a Tool & Die maker.
Strength of Materials Lab: Train the students to determine various strenghts of different materials
Tool Rooms and special Machines: Practising the components using different machine tools and various special machines like Milling, Sharping, Drilling and Grinding machines.
Jigs, Fixture and Gauges: From this lab student can able design the various Jigs and fixtures to improve productivity.
Engineering Metrology: Training the students about the various measuring techniques and the technology that are being used in the varoius measuring instruments.
Press Tools: Training the students about the various operations in the press machine like blanking, piering, progressive drawing and welding and suitable die for the operation also.
Plastic Moulding Technology: To train the students about importance of various conversion techniques for plastics, raw material and suitable die.
Hydraulic & pneumatics Laboratory: To train about the basics of hydralics, pneumatic components, circuits and their functioning.